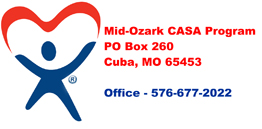 Mid-Ozark CASA serves the children of the 42nd Judicial Circuit Court. The program covers five rural counties in Missouri: Crawford, Dent, Iron, Reynolds and Wayne. Over 200 children in the circuit are in foster care at this time. The judge would like to see a CASA assigned to each child. The program is in the process of expanding so that more of these children can be served.
Mid-Ozark CASA Video
National CASA Videos
Categories: Health Care, Non Profit Organization, Organization
Mid-Ozark CASA
412 N. Franklin
Cuba, MO 65453
573-677-2022 (Main)
Please login here to update your business.